Assalamualaikum
Ini sebenarnya first time pergi expo baby, sebelum ni pergi expo kahwin, merata-rata pergi. Now experience lain pulak pergi expo baby untuk cari barang baby. Tapi sebenarnya blur juga pergi sana. Terfikir apa yang nak dicari. List dah ada, cuma malas nak tengok. Kesimpulan untuk first expo experiences, biasa sahaja. Barang-barang untuk newborn tak banyak pun. Aku mencari lampin baby yang putih tu, cuma jenama disney sahaja yang ada. Ada booth Anakku, tapi lampinnya tak ada pula. Sebab plan untuk this month mencari lampin baby. Nampaknya kena tengok dekat butik sahaja kut. Tapi dalam tak berapa best, dapat juga few barang baby dah. Nampaknya checklist dah boleh cross. hihi.
Nasib baik expo tak berapa besar, but parking FULL. Kitorang berpusing-pusing 3 4 kali untuk masuk parking. Sampai pun dalam pukul 4 petang sebab before tu kami pergi wedding kawan husband di Kajang. Then baru pecut excited nak pergi expo. Perasaan penat letak tepi kau. shopping punya pasal. Tapi balik rumah terus flat sebab, balik terus cari kek untuk sambut birthday mama malam tu.
Tapi malangnya aku tak sempat nak ambil gambar sebab semua barang baby aku dah letak siap-siap kat rumah mama. Yelah, nak berpantang kat sana. Cuma nanti nak standby barang baby untuk bawa pergi hospital sahaja. Malas nak berangkut banyak kali turun dari kayangan ke bumi. hehe. Tak apa, aku gunakan kemudahan google image sahaja lah ye?
So berikut adalah barang yang berjaya aku rembat dari expo tu. Set breastpump package Medela: Harmony Manual dari booth Onebabyworld. Harga RM299.00 murah RM19 dari harga kat butik dia. Dalam package itu dapat lah Autumnz storage bottle (10 bottle) including 5 pack Autumnz Ziplock Storage bag. Then ada 2 kotak lagi Autumnz Ziplock Storage bag (setiap kotak ada 25 pack). Dapat juga Autumnz Classic Cooling Bag (Hitam) and also Autumnz Reuseable Ice Pack (Ada 3 pack) lastly dapat 3 helai washable breast pads. Oh, dapat juga voucher RM10 untuk shopping kat butik dia. Banyak giler dapat storage untuk susu. Nampaknya nanti kenalah gigih untuk pam susu. Kena start cari petua untuk tambahkan susu. by the way, sebenarnya aim nak pergi medela swing. Auto yang murah sikit. Last-last ambil manual. Orang kata senang nak control suction kalau manual. Mama aku pula kata suruh beli manual saja, kang kena karen mengigil pulak. boleh? hehe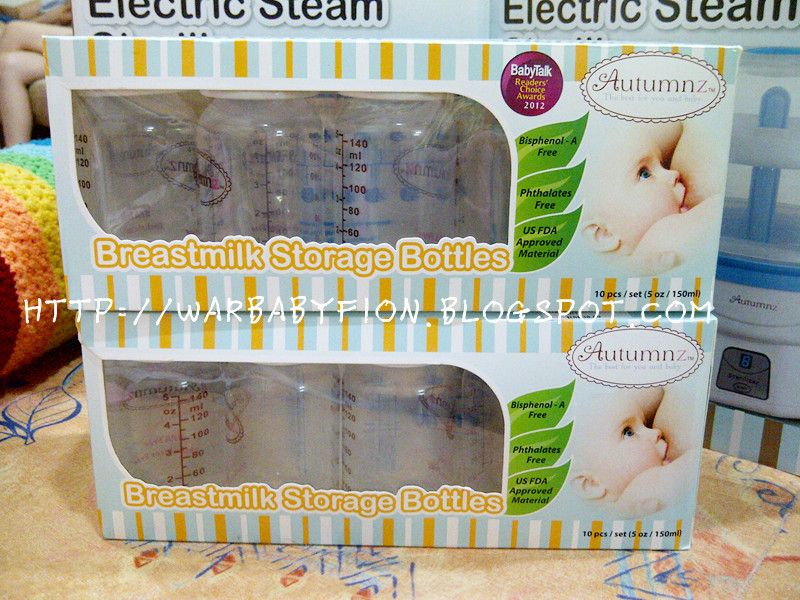 Second item beli which is sebenarnya first item yang dibeli. second baru breastpump. Rembat baby romper. Harga RM35 ada 5 helai. untuk newborn banyak dah habis. So beli untuk 3 bulan nya. Rasanya sama harga or murah sedikit dari GM Klang. GM Klang ada banyak choice untuk barang baby. Murah-murah. So kitorang maybe akan repeat pergi GM untuk shopping baju. Then beli set sapu tangan ada 8 helai dalam RM15.90
Pusing-pusing sebab nak aim beli lampin putih (petak). Tapi cuma ada brand disney. harga RM25. Tapi kain nipis sangat lah. So tak jadi nak ambil. Gantikan dengan Mittens and booties. Itupun tak ada choice sangat. 2 warna sahaja. untuk boys and girls. Beli 2 pasang. Harga setiap 1 RM3.
Total kasar perbelanjaan on that day RM355.90. Parking RM5.50
Banyak baju baby sahaja lah. Brand pun tak banyak. Macam kita boleh shopping sendiri kat GM. Ada few stroller juga. Suami pun ada stroller idaman dia. Cuma kena KIV dulu la sebab benda tu boleh beli lepas pantang. Kalau nak beli awal pun baby car seat dulu rasanya. Senang nak angkut baby hantar pergi rumah tok mama dia.
Lepas ini ada lagi pameran kat midvalley pulak. dengar-dengar cerita lagi best sebab banyak booth. 1-3 march 2013. Itupun kalau larat untuk pergi tempat ramai orang dan berasak. Kalau tak maknanya pergi shopping kat butik sahaja. Kaki tak larat nak jalan lama-lama dah. Banyak lagi barang baby yang tak lengkap. sebab baru nak mula shopping sikit-sikit.